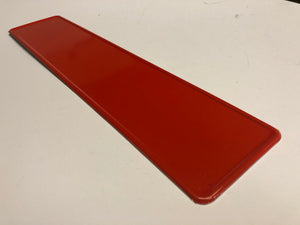 Tomato Red Coloured Show Plate SINGLE
£2000

£20.00
Tax included.
Shipping
calculated at checkout.
---
---
These are our premium quality coloured display show plates. Supplied in the plate colour shown, but customisable with your choice of font style, font colour and wording. These plates are produced in the same way as our other pressed plates but are not road legal and are designed for shows, garages, bedrooms, stables etc. 
We stock the largest range of coloured plates and various coloured fonts in the UK, if you don't see the combination you require please ask us and we will be happy to look into one off requests.
These plates are standard size, 520x110mm. 
These are supplied in singles but we do also sell pairs at a reduced price.
We also have the widest choice of font colours available and the option to leave the plates all one colour (the base colour of the plate).
We offer various font styles too, UK, European and Small European style. 
We have the following symbols available too # @ . ! - _ ? £ available in UK or European font.
We have the following symbols available @ # - _ in Small European font.
Special characters  available in both European fonts Ä Ö Ü
So for example we can produce       #SLAMMED or @LOW_LIFE
The amount of characters that we can fit on a plate are as follows- 
UK- (8 character limit with no spaces)
EUROPEAN- (9 character limit with no spaces)
SMALL EUROPEAN- (13 character limit with no spaces)
Font colours include-
SOLID COLOURS- Black, Dark Blue, Red, Dark Green, Yellow, White, Silver, Green
SPARKLE COLOURS- Silver, Pink, Light Blue, Red, Gold, Green, Purple, Dark Blue
GLITTER COLOURS- Red, Gold, Silver, Pink, Blue
SPECIAL COLOURS- Rainbow, Multi-Colour, Chrome, Shiney Gold, Rose Gold, Base Colour
*****PLEASE REMEMBER THESE ARE NOT FOR ROAD USE *****